Backing
Clam clips
Karate Dog
Hat hoops
 Name tape
Table tops
Travel case
Machine stand
Fast Frames Accessories
Fast Frames Accessories Embroidery Hoop benefits:
Cuts your hooping time down to five seconds.
Relieves carpel tunnel.
Helps achieve excellent repeatability.
Great for multi head operations.
Fast Frames Accessories are easy to use and attach to your machine.
General Instructions for using Fast Frames Accessories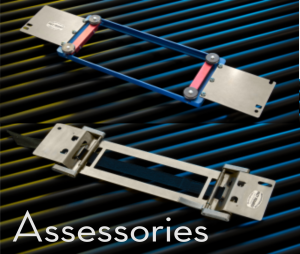 Lay backing under the frame. Cut backing slightly wider than the frame 1,5 cm all around. Using the frame as your gauge, your backing will fit the frame correctly each time.
Turn the frame upside down. Peel the paper from the backing. Place the backing on the frame. Be sure to allow backing to extend past the sides and bottom of the frame. Fold the excess backing over the front edge of the frame.
Attach the frame to the machine arms just as you would one of your hoops. The opening of the frame (with the backing attached) should be coming toward you. Trace your design for proper location. Be sure to leave enough room that the pressure foot does not pinch the garment on the inner edge of the frame.
Remove the frame from the machine. Place item to be sewn on the exposed backing. Smooth fabric on the adhesive backing. Place frame on the machine and embroider.
Tear sewn items from the backing. This sometimes requires both hands. Patch the hole with another piece f backing and continue.
Instructions
Unscrew knobs to allow enough room for item being sewn to slide freely under the clamp.
Locate item to be sewn in the window opening (Be sure to leave enough room to clear the pressure foot when machine is operating.)
Tighten the knobs on one end. While pulling the material taught, tighten the second set of knobs (line up the end of item with notches provided on the clamps; it will make lining each item up in the same location easier.)
When sewing a strap or ribbon the lettering should not be more than 50%of the width of the item being sewn. If the lettering is too tall it will make the material snake back and forth. This will not sew well and may also cause bird nesting.
The thicker the item (such as karate belts) the more you may need to adjust the tension of the dog collar
Add-on frames will work with many different machines, when you upgrade or change machines, often all you need to get up and going again is a new exchange arm. – cleverly thought out