Fast Frames Europe
We look forward to serving the enthusiastic customer with embroidery frames.
Concept options in design fashion and embroidery.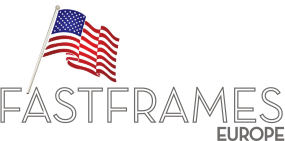 Fast Frames Europe is a lot of things and we want to help you to a make some unique pieces. We are always looking for quality as it gives the greatest satisfaction and the result will last longer. We believe that the products we sell have the right standards. Over the years our product range has also change and I due to the time been developed a lot, and has therefore become much smarter and better. You would currently only find products that are characterized by their good quality and durability.
And that is also the reason why we rarely experience complains.
Your satisfaction means everything, but not all costumers have the same needs. Therefore it is our mission to find the right solution for each costumer. We care a lot about a great personal service. Therefore it is important to us, that the costumer leaves the store or webshop with a smile, so that we can get the costumer started with only good energy and the possibility to become creative.
Briefly about us:
Fast Frames in Europa is owned by GLOBAL TRADING ApS. There are owned by SKOVTEX A old Jutland company in Denmark, which is a big supplier of textile and sewing machines. We have many years of experience; provide high-quality professionalism, efficiency and workplace services.
Welcome to FastFrames.eu please take a look at the page