Fast Frames shipping and delivery
Fast frames shipping and delivery is good and we will make you happy!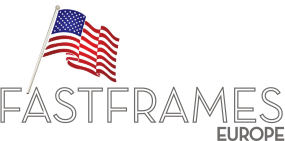 Instead of buying, Fast Frames from United States of America and paying expensive freight costs.
We have established a European stock of Fast Frames and can therefore offer low-cost
delivery of Fast Frames hoops.
THANK YOU FOR YOUR ORDER
We are very excited about getting your order ready and ship it to you. Remember, you can always reach us for any questions or assistance.
SHIP WITHIN 24 HOURS ON WEEK DAYS
Know that once you have pressed 'order' you want your parcel to arrive asap. Therefore we do our very best to ship all orders within 24 hours in weekdays. Weekdays exclude weekends and holidays.
TRACKING ON YOUR PARCEL
Fast Frames think tracking notification is very important for a good experience. Once your order has been proceeding and our courier has received it you will be able to track the parcel on its way to you. Our courier will send you an e-mail with the tracking notification for you to always be able to look at the status.
Order will be sent from our European stock and delivered with GLS – import tax and declaration included in the price.
Fast Frames use GLS Euro Business Parcel to send your items. Therefore we know that the delivery is fast and comes with a great service.
(Delivery 2 -3 days)
Pickup: You can also pick up your goods in the physical shop based in Herning.
If the item is in stock, we will ship it within 1-2 business days. The product is on the remote store, we will ship it within 10-15 business days. If we can't live up to the above we will contact you.
WE SHIP TO 
Belgium, Bulgaria, Cyprus,Estonia, Finland, France, Greece, Ireland, Italy, Croatia, Latvia, Lithuania, Luxembourg, Malta, Netherlands, Poland, Romania, Slovakia, Slovenia, Spain, Sweden, Czech Republic, Germany, Hungary and Austria. Norway, Switzerland, Uk
Have you questions, please feel free to contact us.
Welcome to Fast Frames Contact please take a look at the page.
Or take a look on our danish page SKOVTEX